Happy Birthday Shayari Sms
Birthday is a special occasion in life and it is never complete until you have sent birthday wishes to birthday boy or girl. Say happy birthday to your loved once with our latest collection of birthday shayari, birthday sms, birthday quotes and birthday status. We have 100+ beautiful birthday messages for any age group in Hindi and English.
Happy Birthday Shayari, Aapke JanamDin Par
Best Birthday Shayari Hindi Wishes for Beloved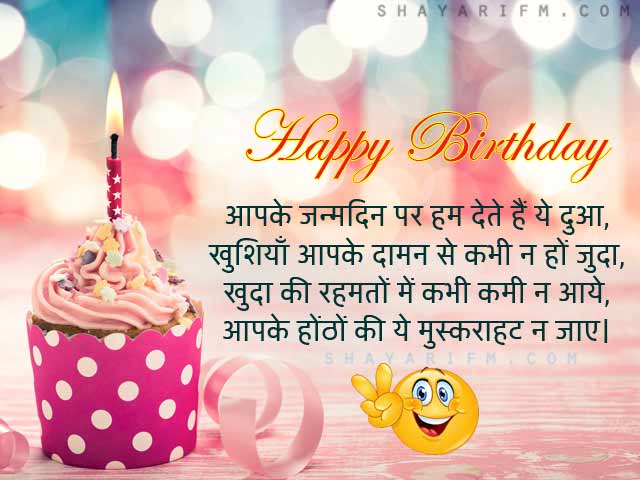 Aapke JanamDin Par Hum Dete Hain Ye Duaa,
Khushiyan Aapke Daaman Se Kabhi Na Hon Juda,
Khuda Ki Rahmaton Mein Kabhi Kami Na Aaye,
Aapke Honthho Ki Ye Muskurahat Na Jaaye.
आपके जन्मदिन पर हम देते हैं ये दुआ,
खुशियाँ आपके दामन से कभी न हों जुदा,
खुदा की रहमतों में कभी कमी न आये,
आपके होंठों की ये मुस्कराहट न जाए।
Birthday Shayari, Dil Se Shubh-Kamnayein
Beautiful Bairthday Wishes Sms Shayari in Hindi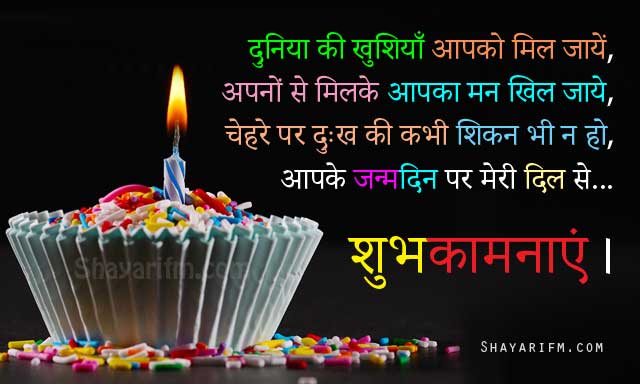 Duniya Ki Khushiyan Aapko Mil Jayein,
Apno Se Mil Ke Aapka Man Khil Jaye,
Chehre Par Dukh Ki Kabhi Shikan Na Ho,
Aapke Birthday Par Meri ShubKamnayein.
दुनिया की खुशियाँ आपको मिल जायें,
अपनों से मिलके आपका मन खिल जाये,
चेहरे पर दुःख की कभी शिकन भी न हो,
आपके जन्मदिन पर मेरी दिल से शुभकामनाएं।
Birthday Shayari, Khush Raho Tum
Hindi Shayari for Wishing Happy Birthday
Dil Se Meri Dua Hai Ke Khush Raho Tum,
Mile Na Koi Ghum Jahan Bhi Raho Tum,
Samandar Ki Tarah Dil Hai Gehra Tumhara,
Sadaa Khushio Se Bhara Rahe Daaman Tumhara.
Happy Birthday Dear.
दिल से मेरी दुआ है कि खुश रहो तुम,
मिले न कोई गम जहाँ भी रहो तुम,
समंदर की तरह दिल है गहरा तुम्हारा,
सदा खुशियों से भरा रहे दामन तुम्हारा।
जन्मदिन मुबारक हो।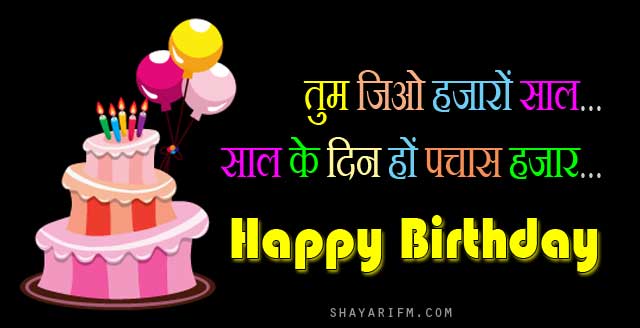 Our heart touching collection of happy birthday wishes contains different emotions like blessings, love, care, pray for beautiful and long life. You may share these best bday wishes to him, her, boy, girl, boyfriend, girlfriend, husband, wife, best friend, brother, sister, mom, dad or little baby.